Gloria Miotto: Retrospect of an Artist's Life
By Kayla Mancuso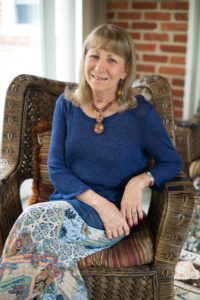 In every part of the world, artists are discovering their talent. For Gloria Miotto, a resident artist at the Artist & Makers Studio in Rockville, MD, it wasn't until her retirement in 2013 that she was fully able to pursue her passion for painting.
Born of both Italian and Portuguese descent, Gloria was raised by her parents in the South American country of Brazil alongside her two younger sisters. Together, her family moved across the landscape of Brazil as her father worked in various federal government roles. By the time Gloria entered her teenage years, the Miottos finally settled in Ribeirao Preto, SP/Brazil. It was in that budding youth when her love for art began. Gloria took basic art classes during her high school years. Then, when she was a senior—it took one art teacher, one painting competition, and one horrible military display—for Gloria to discover her true passion. When the military regime started its twenty-five yearlong dictatorship in Brazil in 1964, many riots broke out, one of which Gloria witnessed. Slipping away for the afternoon without her parents' permission, she attended one of the student demonstrations taking place in town. Gloria watched in horror as students flooded the streets fleeing the military regime. It was an eye-opening experience. Getting back home, Gloria felt her heart race, and suddenly it hit her. She knew what she would create for the city-wide painting competition. It was the first painting she ever made, and it reflected the images that had been burned into her memory from that day of protest. After submitting her finished work,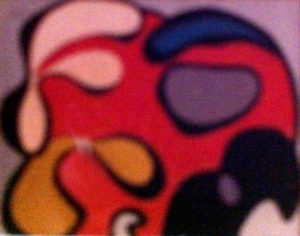 Gloria's teacher asked what it should be titled. Gloria gave her work a powerful name, "Student's Demonstration Against the Military Regime in Brazil." The painting is featured to the left and was created between 1964 -1965. The piece shocked her teacher as it was done in abstract cubism, a style she had not yet taught in their class. The colors flowed brilliantly in the oil painting and the piece led Gloria to win first place in the competition. After this achievement, Gloria knew her heart wanted to lead the path of an artist. The ambitious student that she was, Gloria worked hard to pass the entrance exam to the best art private university in Ribeirao Preto, Brazil. However, after finding out from her father that both of her sisters also had plans to attend private schools, Gloria's father encouraged her to pursue a career in the nursing field and receive a free public education from the state university.
After passing the mandatory entrance exam, Gloria went on to become a nursing student.  Nevertheless, art still called her name. During her studies and training in the hospital environment, Gloria struggled to acclimate herself but found solace in the "artist corner" in her city. It was a place where the creative could go for a few hours a week to expand their art knowledge and put their skills to paper. It was there that Gloria learned about realism, impressionism, and how to express herself with painting. The experience provided her an outlet from the stressful hospital environment and helped her to push through her intensive training program.
After spending time between the "artist corner," and working at the community level for public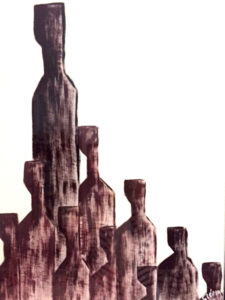 health training, Gloria fully immersed herself into her studies. She participated in a variety of community projects and realized what being poor in a stratified society like Brazil, truly meant. It brought her to question many things like the economic situation in her country, the welfare of the people, and how other countries performed on a global scale. The painting on the right Gloria painted during her time as a nursing student represents the stratification of Brazilian society. While a student, she could not afford the cost of oil paints. Gloria had to prepare it from raw materials, and instead of canvas, she painted on special paper and wood boards. To this day, the paintings are hung in her studio in Rockville; the colors are just as vibrant as the day she painted them.
Until she graduated, Gloria continued to participate in the "artist corner." Her pieces from that period reflected the critical awareness she was developing about the complexities of the world. However, it was during this period that Gloria had to stop painting for more than forty years. Life had other plans for her as she pursued her health profession, her work as an educator, her role as a devoted wife and as a nurturing mother to four boys. Dedicated to the part she played in the public health of the community, both locally and internationally, Gloria went on to accomplish many amazing achievements as a health professional. Eventually earning herself a master's degree in preventive medicine, and doctoral and post-doctoral degrees in international public health. Gloria persevered to educational heights and was the only person in her family to earn a degree of this caliber.
In Brazil, Gloria worked as an associate professor at the University of Brasilia/Brazil, and for the Ministry of Education and Science and Technology – CNPQ. As she advanced in her career, work took her overseas to Washington D.C. Gloria enjoyed her years working on urgent public health issues and directly helping people. She worked as consultant at the Pan America Health Organizing (PAHO), an associate professor at Georgetown University, in Washington, D.C., and a drug specialist at the Inter-American Drug Control Commission (CICAD) at the Organization of American States (OAS).  Beyond her formal work, Gloria also wrote technical books and articles based on her experiences and research in the nursing and international health fields. Interesting projects included her efforts to help create the International Health Program at Georgetown University – School of Nursing and leading conferences made Gloria a role model in the field. Her father was correct when he told her, "You are a good student, you like to help people," and helping people is what she did for many years throughout her career. Despite the professional success, there was always something missing from her life.
Sixteen years ago, Gloria's husband Charles passed away. As a couple they raised four boys and today, Gloria has five grandchildren. Her family has always been of great importance and it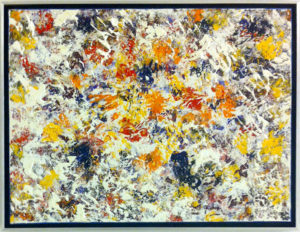 impacted her life in many ways. Upon her retirement in October 2013, Gloria found herself as a widow and for the first time in 40 years without a plan on where to take her life next. Then, when a friend threw out the idea of applying to an art class at Montgomery College, Rockville, MD, Gloria considered the possibility. That part of her life had been put on hold for many years, and she was not sure she could paint again. Between raising a wonderful family, completing an accomplished career and seeing the world, what more could a person long to accomplish?
But again, when one is passionate about something, how can they fight it? The answer was simple; Gloria's time for an artist's life had finally arrived. She registered and dove in head first as she had in everything she took on in her life and re-discovered her long-lost love for art. Her dreams of painting were reborn, and life seemed to have new colors poured over the canvas. Gloria had spent so many years burying away that part of her, but when she reached back in it all came pouring back.  Gloria was ecstatic to begin indulging in her art classes, learning about famous artists, and trying out styles that made her heart race. Participation in seminars and workshops gave Gloria a new sense of achievement and belonging. Never having any formal training, except for a few high school courses and her involvement in the "artist corner" while in university, Gloria wanted to develop her own style.
Despite starting off working with the impressionism style, Gloria knew she wanted to try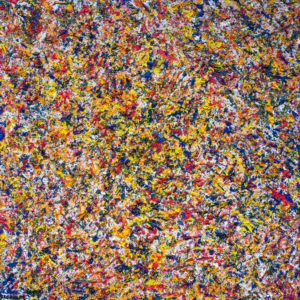 something different. One day she felt the impulse to put her paint onto the surface of the pallet paper and smear into the canvas. The combination of vibrant colors gave her such satisfaction. When the professor saw what she had done, she noted that it reminded her of Jackson Pollock's artwork. The class was shocked to hear Gloria had never heard of him. After a little explanation from the professor, Gloria had a sense she might love this artist, so she went home and bought all the books on him she could find. Learning about Pollock and the other artist who contributed to the abstract Expressionism Movement, helped guide Gloria in understanding what style she wanted to develop for herself. That is when she began working with texture and the dripping technique.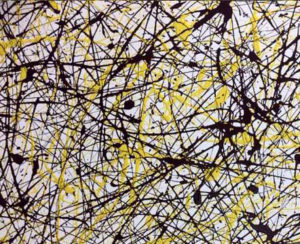 Now, years after having developed as an artist, Gloria enjoys spending her days at Artist & Makers, and is thankful to be one of the fifty resident artists in the building. Had she never sold her house to one of her sons and moved into a smaller two-bedroom apartment, she would not have to find a studio to continue painting. Becoming part of this vibrant community of artists has been an exciting journey. Since Gloria returned to painting five years ago, she has had three solo shows and has participated in several groups shows.  People are beginning to recognize her style of art and buying her artwork which now can be found in numerous private and corporate collections. She has won three awards. One of Gloria's friends vividly describes her work which comes to life on the canvas when she said:
"Gloria's art work is transformative. It will awaken your wall and illuminate your soul."
With her door open, and music flowing from inside, Gloria diligently paints away at her next piece to put her emotions on the canvas and in hopes that passersby will be captivated by her work and get enjoyment out of her art. Her goal is to capture the relationships she sees in the world, both as human beings and with nature and in, and have them reflected in her paintings. For Gloria, if she can make the viewer understand the struggle between self-expression within the context of our complex society, then she has succeeded in bringing the viewer into her art and become a part of the story. As it was once said by Margaret Atwood:
"I did not know how to paint or even what to paint, but I knew I had to begin."
For Gloria, the love of art was always in her, and finally, she has brought it to life it again.
Artist Statement
I enjoy creating intricate pieces of abstract visuals for my viewers and I am looking to engage the audience with my art. Ever since I was young I took an interest in the relationships between humans and nature and I would employ them into my work.
My artist influences stem from the topical issues of the diverse societies of the world. Through my artist perceptive, I aim to breathe life in my work and have it represent the world from the angle at which I am observing from. My hope is that the art I create will leave everlasting impressions on those who gaze upon it, just as the real events that I drew from, left imprints on my life.
Although I did not attend an art degree program during my university years, throughout my life and predominately since my retirement I have been studying art through seminars and workshops that have showcased different styles and art movements in the world. From there, I began developing my style and technique that would later be featured in collective art shows, as well as in my own solo art shows.
While I have experience with painting in multiple styles, I feel most liberated while working on pieces that are abstract and use ample texture, or that have the dripping technique. Abstract expressionism allows me to explore my innermost thoughts and provides the mental space I need to perceive the nature of the subject matter. As I paint, I am telling stories of the past, present and the relationships with the ecological and contextual environment of the world. In the evolution of developing my own style and technique I have been influenced by Pablo Picasso, Georges Braque, Candido Portinare, Amadeo Clement Modigliani, Vicent Willem van Gogh, but mostly Jackson Pollock.
In most of my works, a viewer might notice a steady trend. I am a huge fan of color. I love to play with the combinations, feeling that each color can help the other to speak and tell the story of the painting. Due to this, I take my time in choosing the palette paper and knife, the canvas, the colors and knowing that the combination must be harmonious in order to convey the right message. Sometimes, while painting the layers I will start off with a base color—white, for example—then I will begin to blend more in over time.
As an oil-based painter, a big portion of my process is of course—patience. When painting, I use a generous amount of paint to create an overlap of layers. As each layer must dry, the waiting period can be as short as a day, and other times as long as a month. In the moments between drying, I work on other paintings of the series that I am building. It is typical that I will work on up to three pieces at a time, so that I can keep busy while one design is drying. This part of my process allows for me to develop new works and to re-evaluate current paintings. A piece is not finished until I can step back and still love it from afar.
For me, art is a way of life. I can tell a story with my paintbrush and that story will be viewed by my audience as it impacts them on a personal level. One of my sons once said:
"My mother's art is a visual display of the complexities of life. It asks you on a journey into the depths of social and environmental issues faced in our society today. Her life experiences and deep understanding of human emotions and interdependencies with nature are captured in thought provoking three-dimensional colors. The beautiful paintings are both inspiring and perplexing as it requires soul-searching to really understand what they represent."
Resume
Education
Gloria Miotto had an informal art education which started during high school where she learned the basic principles of colors, color combination, and drawing. During her university years, Gloria continued to take art classes with a private, local artist at the "Artist Corner" in Ribeirao Preto, Brazil. Recently, she has been participating in the art courses at the Montgomery College in Rockville, MD, through their Adult Education Program. She has also attended art classes at John Hopkins University through their OSHER Program. In the beginning of 2019, she was invited to participate in the Art Business Academy Program, offered by Xanadu Gallery – Scottsdale/Arizona.
Style
Gloria Miotto has been an oil-based painter since the beginning of her career. She has experienced with painting in multiple styles, some of which are neo-realism, impressionism, and lately—abstract expressionism. This helped her to develop her own style and technique. Her subject matters are based on social issues, the environment, and the human interactions as they pertain to their integration of our ecosystem.
Solo Art Shows
February – May 2019 "Abstract Realities Series" Grill Cheese Grill Restaurant Gallery at Washington, DC. (invitational).
January – February 2018 "Four Seasons from Within Series" Glenview Mansion Art Gallery in Rockville Civic Center Park (juried competition).
May – August 2018 "Challenges in Life Series" Goldman Art Gallery, Bender JCC of Great Washington in Rockville, MD (invitational).
Awards
March 2019 "Forest in Spring Season" – Abstract 3D – Honorable Mention, Audience Choice Award for the Art League, March Members Art Show at the Priddy Library at the University of Maryland in Rockville, MD.
June 2019 "Web of Peace" – Abstract 3D – 2 nd Place Award in the Montgomery Art Association's Creative Expressions Art Show in Chevy Chase, MD.
May 2017 "Blending of Colors" – Abstract 3D – 3 rd Place Award in the Montgomery Art Association's Creative Expressions Art Show in Chevy Chase, MD.
Other Exhibitions
June 2017 - 2019 Montgomery Art Association, Creative Expressions Art Show in Chevy Chase, MD
May 2019 Woman's Club Annual Art Show in Chevy Chase, MD.
September 2019 The Meeting House Gallery Art Show, Columbia, MD.
May-June 2015 - 2019 Jewish Community Center art show -A Lifetime of Perspective - in Rockville, MD.
August 2016 - 2018 Organization of American States (OAS) Annual Art Show in Washington, DC.
September 2015 - 2018 Glen Echo Annual Labor Day Art Show in Washington, DC.
September 2015 - 2018 Montgomery Art Association, Labor Day Art Show in Kensington, MD.
June 2017 - 2018 Rockville, Art League (RAL) Annual Member's Art Show in Rockville, MD.
February 2016 - 2017 Village of Rockville – A Lutheran Community Art Show in Rockville, MD.
Memberships
2017 to present Glen Echo Park Partnership for Arts and Culture
2016 to present Rockville Art League (RAL)
2016 to present Montgomery Art Association (MAA)
Friends and Family Members comments about my art work in general:
"Gloria's art work is transformative. It will awaken your wall and illuminate your soul."
"Gloria's abstract textural art convey mood".
"Gloria's paintings convey the dichotomy of life: complex and unpredictable, but also simple and pure like the color white. When I look at the painting I have in my house from her, hanging in my living room, I also think about the beautiful path this piece took to get to me."
"I have gone to several art exhibits where Gloria's had her paintings displayed, and in each of those times, I got more impressed by her talent and artistry for choosing the combination of different colors and themes. She is truly gifted and always shows her dedication to her work."
"Gloria's art work are forceful and colorful application of paint and texture, moving together and turning into majestic and graceful paintings. When paintings are combined in their respective collections, they magically end up making sense and remind us of the temporary nature of our existence, in space and time."
Grandson – 12 years old -"Vovo's art work allows me to feel and to understand the world better because it shows all the struggles with peace. It also calms me down."
Grandson -11-1/2 years old - "I think my grandma puts a lot of effort into her paintings, and her paintings are marvelous, they have that very bit of detail that no other painting has. The texture of the paintings are so satisfying like you have never seen before. If you want a good affordable painting to put on a wall you got it here. Just buy one now and You'll live happily ever lasting life. AND THANKS!"
Grandson – 10-1/2 years old -"Dear Vovo, your art makes me feel confused and like I am everywhere in the world at one time."
"My mother's dripping abstract paintings are a nouveau incarnation of Jackson Pollock's action painting style, but instead of action, the viewer is welcomed into a peaceful, colorful, transcendent and soothing changes of season, moods and streams. It is a constant ebb and flow of dream like images in abstract form. In short, it is a yin and yang of visual opposing forces such as war and peace represented by black and white strokes that unite and complement each other in our subconscious."
"I like abstract art and my mom's styles are very interesting. She made a few custom sized paintings for us that have greatly enhanced the look of our home. We're very happy with them, and we like looking at them every day. Our friends who come over and see them for the first time always ask where we got it and show interest in getting similar art for their places, if they can afford it."
"I love the colors and the texture. About the large white painting you made for our house: What a nice painting."
"My mother's art is a visual display of the complexities of life. It asks you on a journey into the depths of social and environmental issues faced in our society today. Her life experiences and deep understanding of human emotions and interdependencies with nature are captured in thought provoking three-dimensional colors. The beautiful paintings are both inspiring and perplexing as it requires soul-searching to really understand what they represent."
"Gloria's art work are depth in colors, feelings, surfacing 3D."
"Mother's art work is visionary. With a style that is all her own. She blends abstract, expressionism and modern techniques to create rich and texture worlds. Each painting–vibrant with colors and multiple layers–convey a full range of emotions. They are at once beautiful and psychological. A joy to look at, but also make you think about the underlying story."
"Gloria's art work is beautiful abstract artwork. The colors and textures create a visceral, emotional experience."